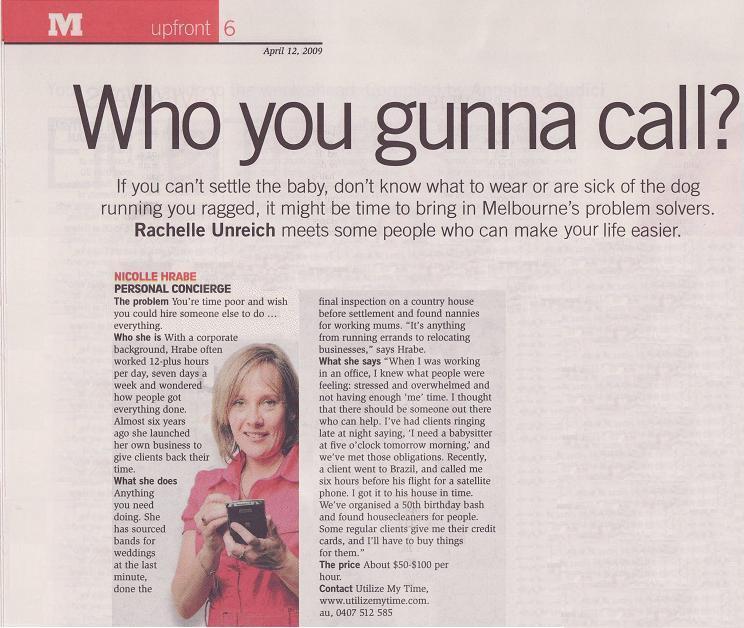 If you can't settle the baby, don't know what to wear or are sick of the dog running you ragged, it might be time to bring in Melbourne's problem solvers.
Rachelle Unreich meets some people who can make your life easier.
NICOLLE HRABE, PERSONAL CONCIERGE
The problem You're time poor and wish you could hire someone else to do .. everything.
Who she is With a corporate background, Hrabe often worked 12-plus hours per day, seven days a week and wondered how people got everything done. Almost six years ago she launched her own business to give clients back their time.
What she does Anything you need doing. She has sourced bands for weddings at the last minute, done the final inspection on a country house before settlement and found nannies for working mums. "It's anything from running errands to relocating businesses" says Hrabe.
What she says "When I was working in an office, I knew what people were feeling: stressed and overwhelmed and not having enough 'me' time. I thought that there should be someone out there who can help. I've had clients ringing late at night saying, 'I need a babysitter at five o'clock tomorrow morning,' and we've met those obligations. Recently, a client went to Brazil, and called me six hours before his flight for a satellite phone. I got it to his house in time. We've organised a 50th birthday bash and found house cleaners for people. Some regular clients give me their credit cards, and I'll have to buy things for them."
The price About $50-$100 per hour.